Here's the demo of WP SociDynamo plugin:
Get your copy of WP SociDynamo here:
=> http://www.pluginsbyigor.com/socidynamo
Get WP SociDynamo + All Bonuses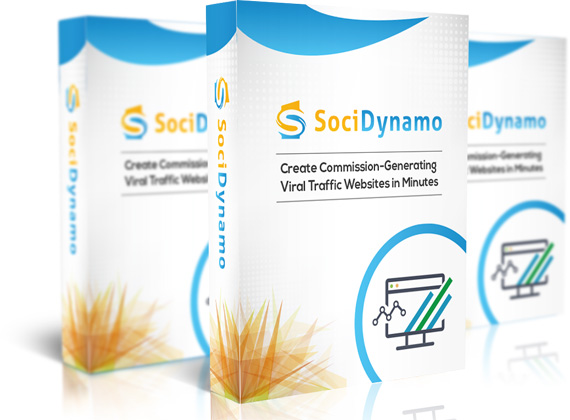 SociDynamo is a WordPress plugin that allows you to create pages that look similar to Pinterest.
Not only they look good but they can also generate free viral traffic and generate easy commission for you on auto-pilot.
You don't need to create any content. You don't need any of your own products.
The plugin is using other people's products, other people's content and traffic to create these sites.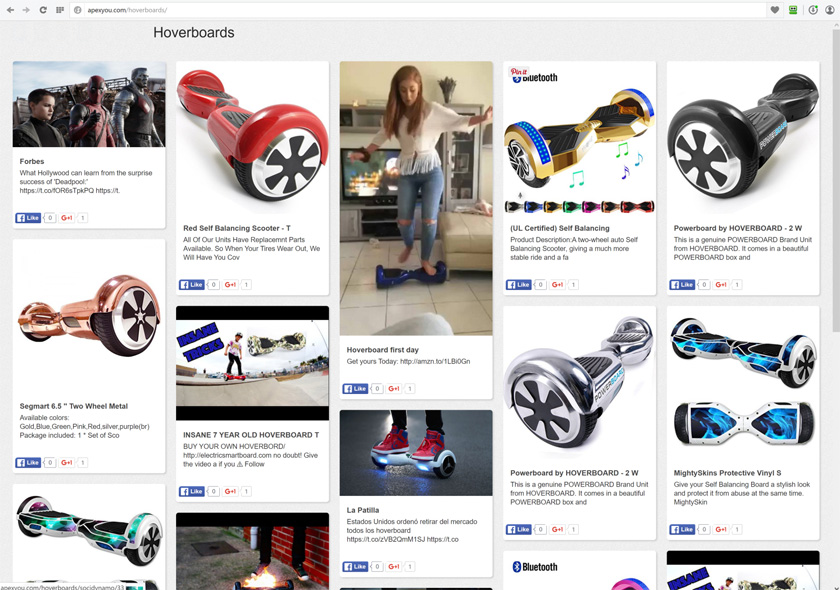 Let's Take A Look Inside The Admin Area
SociDynamo comes with tons of customization options. And you can even use your current WordPress widgets on the posts created by the admin.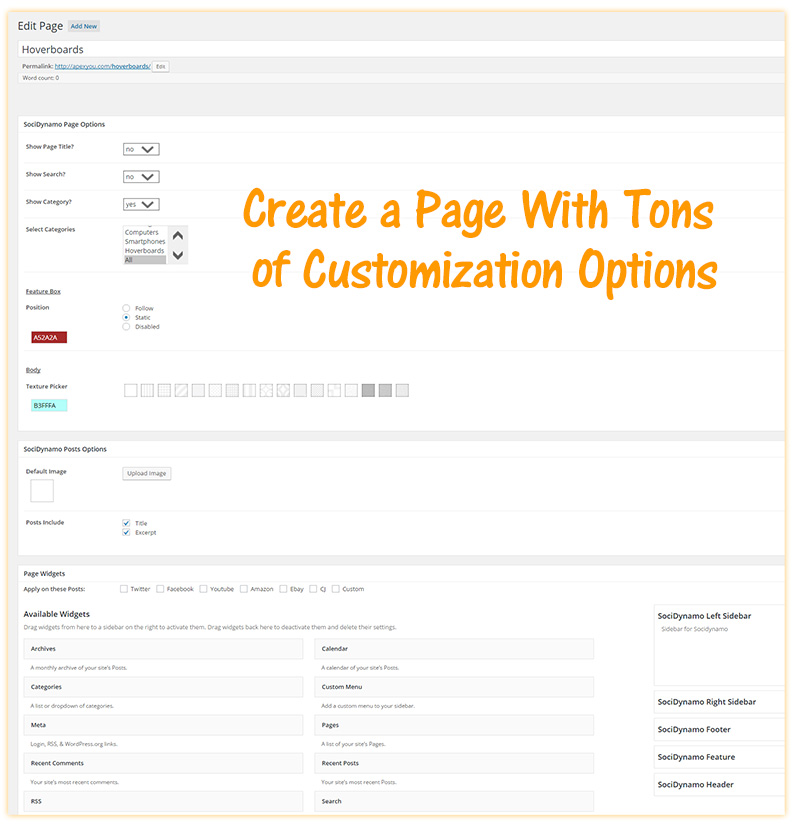 Search and grab YouTube videos, Facebook posts, tweets, or even add your own content in just a few clicks.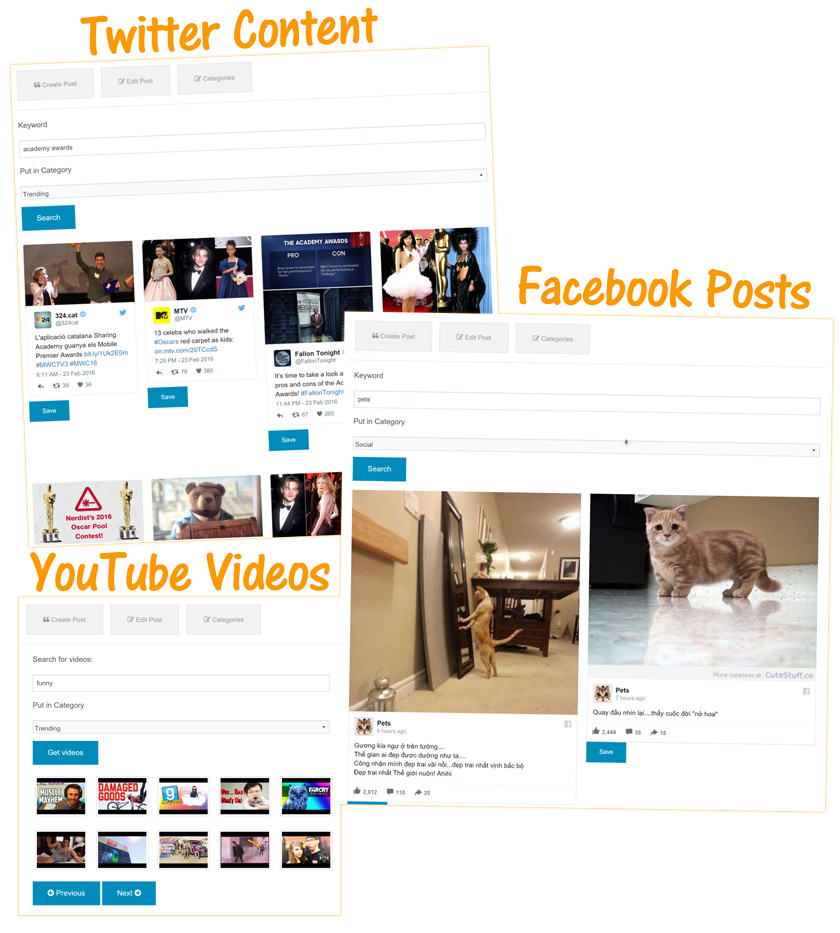 WP SociDynamo plugin allows you to earn money from your site by adding affiliate products from Amazon, eBay and Commission Junction.
Mixed together with viral posts from Facebook, Twitter and YouTube your affiliate links will get tons of clicks.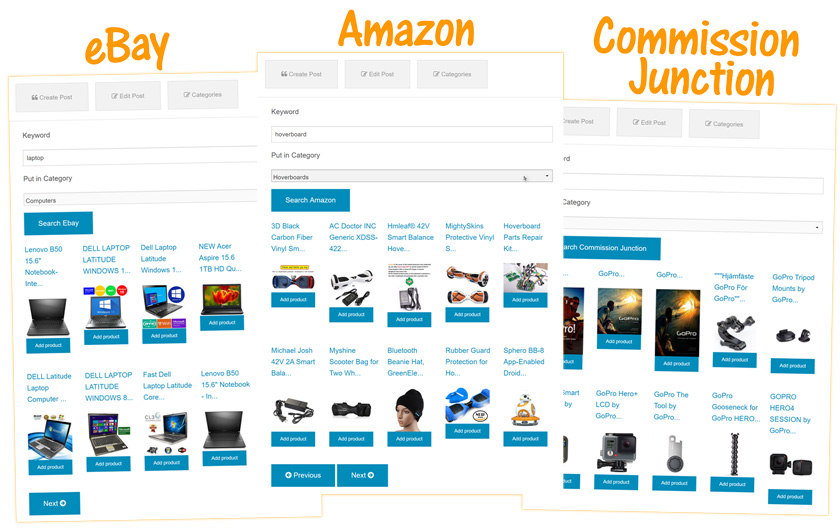 OTOs (One Time Offers) aka Optional Upgrades
There are a few optional upgrades that you'll be offered after the purchase. They are completely optional and not required for the main software to work. They do come with some nice additions and extra features.
SociDynamo Max
– is an optional upgrade version which has following extra features:
Post scheduling feature that creates new posts and builds your viral traffic pages automatically
Self-optimizing feature that monitors your posts and moves popular ones to the top for max results
Lightbox opt-in with smart controls and timers that allows you to build a subscriber list on autopilot
This is a really useful upgrade if you like to automate your tasks.
SociDynamo Elite
– is a developers license which allows you to:
Install SociDynamo on UNLIMITED client sites
Create UNLIMITED SociDynamo pages for clients
Create and flip SociDynamo sites for quick profits
Charge clients any amount you want for this service
Keep 100% profit from client fees you charge
If you ever think about selling your sites or if you build sites for clients, this is the license that you'll need.
VIP Member Package
– this optional upgrade gives you a discounted access to a bundle of other highly successful and useful plugins created by Brett in the past. You get a lot of value out of this upgrade compared to buying all the plugins included in this upgrade separately.
Bonuses: 12 WordPress Plugins
Bonus #1
Bonus #2
Bonus #3
Bonus #4
Bonus #5
Bonus #6
Bonus #7
Bonus #8
Bonus #9
Bonus #10
Bonus #11
Bonus #12
Note: These bonuses are delivered inside JVZoo area. Go to My Purchases, find SociDynamo, click View Details and on the bottom look for a button that says "Bonuses From Igor" ( See a screenshot )
You have to purchase WP SociDynamo from my link in order to qualify for the bonuses.
Get your copy of WP SociDynamo here:
=> http://www.pluginsbyigor.com/socidynamo
Get WP SociDynamo + All Bonuses
WP SociDynamo
Pros:
- Easy to fill with content by searching Facebook, Twitter and YouTube.
- Tons of options for earning commission. Search and add affiliate products from Amazon, eBay and Commission.
- Responsive design and auto-loading when users scroll.
- Use your existing WordPress widgets on post details page. Want to add banners? You can!
Neg:
- Post details page could use a large Buy Now button. However you can add it manually.