What RebrandPress is – explained in one minute:
Get your copy of RebrandPress here:
=> http://www.pluginsbyigor.com/rebrandpress
Get RebrandPress + All Bonuses
Sneak Peek At The Admin Area
Get your copy of RebrandPress here:
=> http://www.pluginsbyigor.com/rebrandpress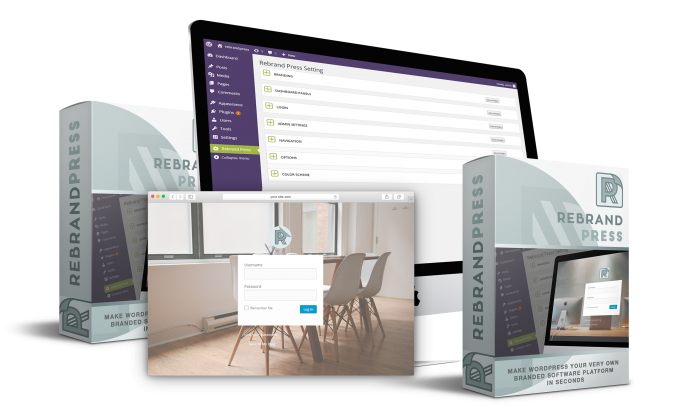 RebrandPress is a WordPress plugin that allows you to re-brand a WordPress site and make the admin area look completely custom with no mention of WordPress.
Not only you can get rid of WP logos/symbols but you can also substitute them with your own. It even allows you to create your own login page. Your customers won't even know they are navigating a WordPress site.
OTOs (One Time Offers) aka Optional Upgrades
There are a few optional upgrades that you'll be offered after the purchase. They are completely optional and not required for the main software to work. They do come with some nice additions and extra features.
Developers License
– allows to install the plugin on your client's sites or use it on the sites you flip or sell and the buyer can keep the plugin.
White Label Rights
– allows you to rename the plugin and sell it as your own. Only use this upgrade if you already have clients of your own or if you plan to run a software business.
Bonuses: 12 WordPress Plugins
Bonus #1
Bonus #2
Bonus #3
Bonus #4
Bonus #5
Bonus #6
Bonus #7
Bonus #8
Bonus #9
Bonus #10
Bonus #11
Bonus #12
Note: These bonuses are delivered inside JVZoo area. Go to My Purchases, find RebrandPress, click View Details and on the bottom look for a button that says "Bonuses From Igor" ( See a screenshot )
You have to purchase RebrandPress from my link in order to qualify for the bonuses.
Get your copy of RebrandPress here:
=> http://www.pluginsbyigor.com/rebrandpress
Get RebrandPress + All Bonuses