Here's the demo of WP Image App:
Get your copy of WP Image App here:
=> http://www.pluginsbyigor.com/wp-image-app
Get WP Image App + All Bonuses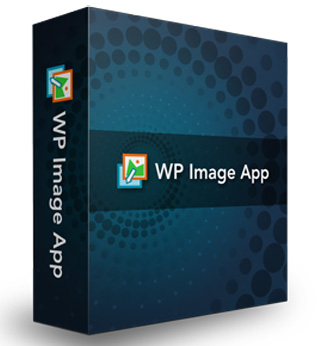 WP Image App is a WordPress plugin that allows you to use hundreds or even thousands of images with a single click right from the dashboard of a WordPress site.
Here Is What WP Image App Can Do For You With A Push Of The Button
1. Fetch Images From Any URL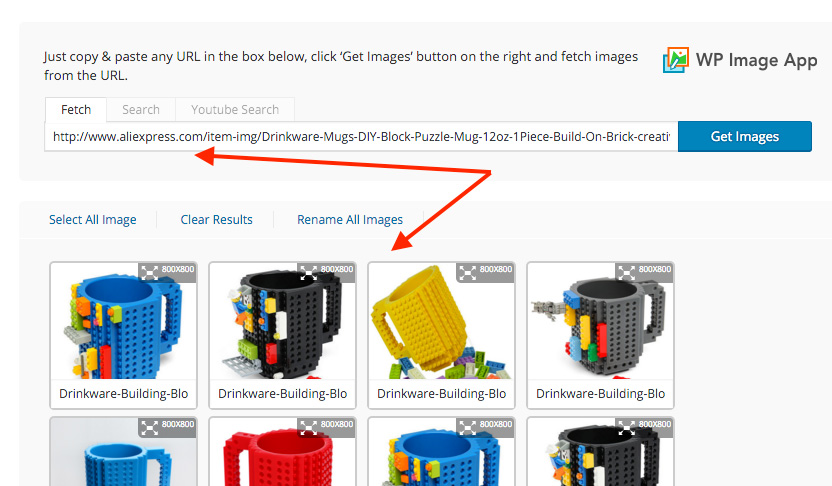 This feature allows you to download the image to your own server and use a URL on from your site instead of linking to the source.
This is perfect for product images. Previously you would download images from the sales page (Amazon, AliExpress, Alibaba, etc.) to your computer…
…you would then rename them (usually it's between 4-6 images per product) and you would manually upload them to your e-commerce product page.
With WP Image App it takes just a few clicks. Just copy & paste the URL in the box, click the 'Get Images' button and WP Image App will load those images right on your site.
2. Search Images Based On A Keyword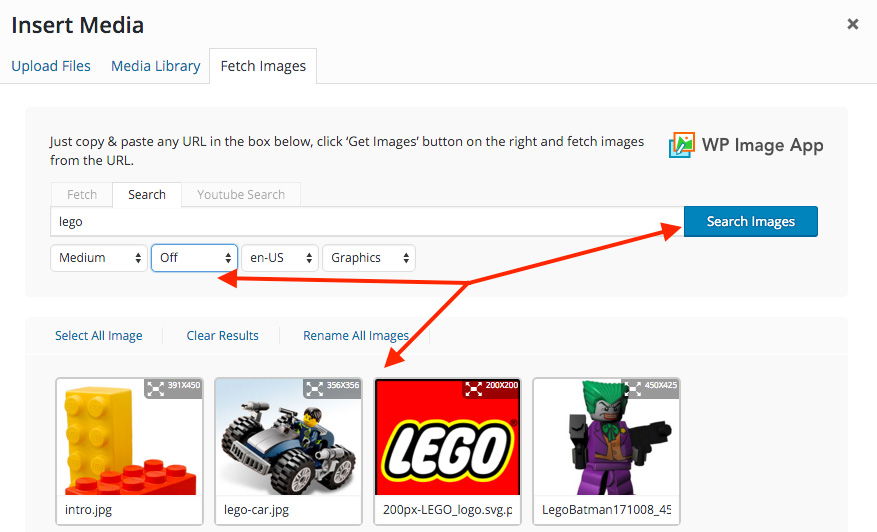 Just enter the keyword that you are targeting with your content post, select the size, search terms, market and image type, click the 'Search Images' button…
And WP Image App will get you the most relevant, high-quality images from Bing.
3. Search YouTube Thumbnails Based On A Keyword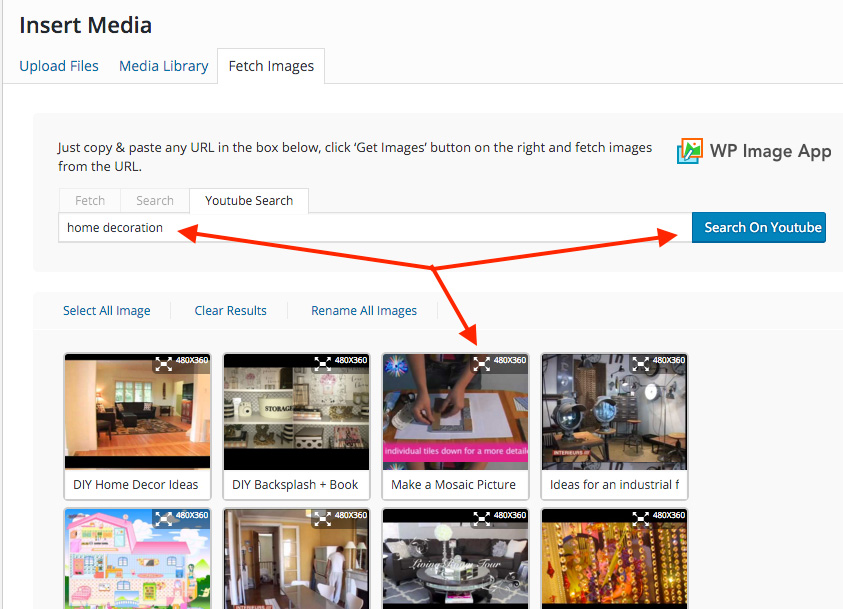 This is super cool!
Now you can get high-quality images directly from YouTube.
Just enter your keyword, click 'Search on YouTube' button and within seconds, you will get hundreds of high-quality images for your site.
4. Search Pinterest For Most Engaging Images

Did you know that nearly 4000 images are being pinned on Pinterest per minute every single day?
And now with WP Image App you have access to all of them with a push of the button. Isn't that amazing?
5. Optimize Your Images For SEO And Include Reference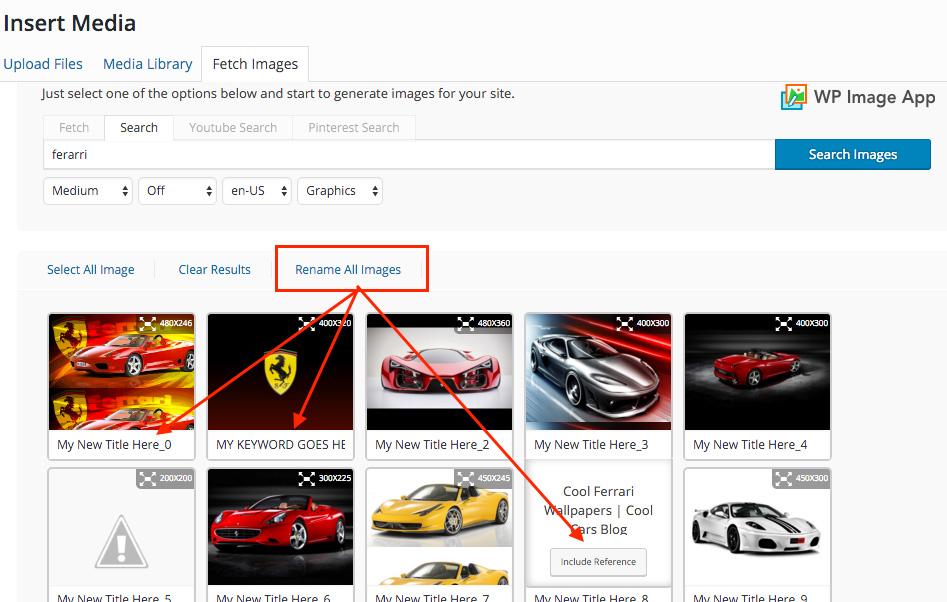 There are many things that you can do when it comes to image optimization. However, one of the essential parts is a file name.
With WP Image App it takes just one click to rename them all OR, if you want to get rankings for multiple keywords, you can simply type the individual name for each of the images.
Even more… If you are not sure about the copyrights of an image, simply include the source along with the image, and WP Image App will create a nice link back to the page from where an image comes from.
6. Add Them On Your Site Exactly How You Want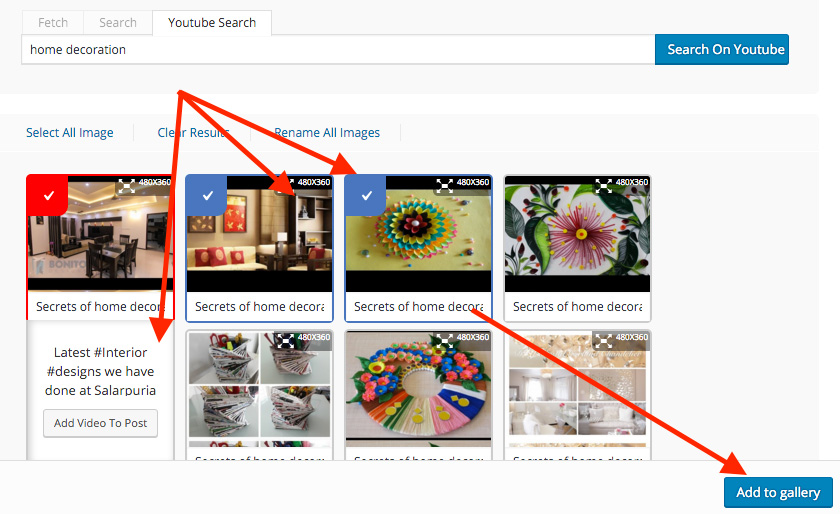 Nothing gets saved on your website until you click 'Add to gallery' button.
With WP Image App, not only you can select and add multiple, FOOTPRINT FREE images on any post or page with a single click.
You can also pick which image will become a FEATURED image (RED selection in the screenshot).
Even more… If you used the YouTube search to find images, you can embed a YouTube video along with the image.
And there are many more features that make WP Image App an irreplaceable tool on any WordPress site.
OTOs (One Time Offers) aka Optional Upgrades
There are a few optional upgrades that you'll be offered after the purchase. They are completely optional and not required for the main software to work. They do come with some nice additions and extra features.
WP SEO Player
– super powerful plugin for anyone who wants to get free Google rankings and traffic by using videos.
P1 Dashboard
– a suite of must-have software tools for any internet marketer (monthly subscription).
Bonuses: 12 WordPress Plugins
Bonus #1
Bonus #2
Bonus #3
Bonus #4
Bonus #5
Bonus #6
Bonus #7
Bonus #8
Bonus #9
Bonus #10
Bonus #11
Bonus #12
Note: These bonuses are delivered inside JVZoo area. Go to My Purchases, find WP Image App, click View Details and on the bottom look for a button that says "Bonuses From Igor" ( See a screenshot )
You have to purchase WP Image App from my link in order to qualify for the bonuses.
Get your copy of WP Image App here:
=> http://www.pluginsbyigor.com/wp-image-app
Get WP Image App + All Bonuses