Quick introduction to WPGateWay Secure Plugin:
Here's the demo of WPGateWay Secure:
Get your copy of WPGateWay Secure Plugin here:
=> http://www.pluginsbyigor.com/wpgateway
Get WPGateWay Secure Plugin + All Bonuses
What Is WPGateWay Secure?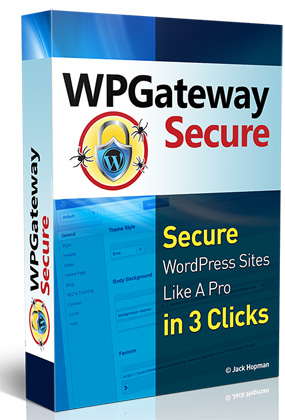 WPGateWay Secure Plugin will confidently protect your WordPress sites using more than 35 pre-loaded tests and automatic solutions which let YOU diagnose and FIX SECURITY ISSUES quickly and easily.
Here's how the plugin protects your WP sites in the Regular version:
Test the "anyone can register" option is active.
Test the user with username "admin" exists.
Test the error message on failed login attempts.
Test for the prefix of the WordpPess table.
Test that general debug mode is active.
Test your install.php file is accessible via HTTP on the default location.
Test your upgrade.php file is accessible via HTTP on the default location.
Check if plugins/themes file editor is enabled.
Check if uploads folder is browsable by browsers.
Check if Windows Live Writer link is present in pages' header data.
Test that WordPress core is up to date.
Test the plugins are up to date.
Test that themes are up to date.
Test the server response headers contain detailed PHP version info.
Test that expose_php PHP directive is turned off.
Test the salts and keys have proper values.
Test the strength of WordPress database password.
Test that database debug mode is enabled.
Test JavaScript debug mode is enabled.
Check if display_errors PHP directive is turned off.
Test your wp-config.php file has the right permissions (chmod) set.
Test your register_globals PHP directive is turned off.
Test the PHP safe mode is disabled.
Test the allow_url_include PHP directive is turned off.
Test if MySQL server is connectable from outside with the WP user.
Test your wp-config.php can be accessed via HTTP.
And here are some extra layers of protection that you'll get with Advanced version.
Protect Login form with captcha
Enter Captcha Text
Email when Ip blocked
Notification Email
Block Threshold
Email Threshold
Ban IP Threshold
Blocked Message
Banned Message
Email on hack attempt
OTOs (One Time Offers) aka Optional Upgrades
There are a few optional upgrades that you'll be offered after the purchase. They are completely optional and not required for the main software to work. They do come with some nice additions and extra features.
WPGATEWAY SECURE Extreme
– this upgrade adds 22 extra layers of security.
It allows you to use a
new folder path
for wp-includes, wp-post-comment.php, new wp-login.php path.
It allows you to hide
misc meta, wp-includes folder, plugins, wp-login.php, wp-admin folder, wp-signup.php, wp-signup.php, wp-post-comment.php, misc wp-*.php files.
More features
: minify/cleanup css, minify/cleanup html, test that expose_php php directive is turned off, prevents enumeration of usernames and hides it from hackers and scanners, prevents installation of vulnerable plugins and automatically deletes them, prevents installation of vulnerable themes
Weekly scans
: all your plugins & themes for vulnerabilities , automatically updates and blocks known hackers, weekly updates & scans.
Sales Dynamite
– this upgrade is a complete toolbox and resources for establishing a profitable local business.
Bonuses: 12 WordPress Plugins
Bonus #1
Bonus #2
Bonus #3
Bonus #4
Bonus #5
Bonus #6
Bonus #7
Bonus #8
Bonus #9
Bonus #10
Bonus #11
Bonus #12
Note: These bonuses are delivered inside JVZoo area. Go to My Purchases, find WPGateWay Secure, click View Details and on the bottom look for a button that says "Bonuses From Igor" ( See a screenshot )
You have to purchase WPGateWay Secure Plugin from my link in order to qualify for the bonuses.
Get your copy of WPGateWay Secure Plugin here:
=> http://www.pluginsbyigor.com/wpgateway
Get WPGateWay Secure Plugin + All Bonuses